Radiance Kids Vege 60 Chewable
Radiance Kid's Vege delivers the health benefits of high energy, phytonutrient-rich green superfoods from land and sea with ease and convenience. These succulent, tropical fruit flavoured chewable tablets mean that kids will love them too. Antioxidant rich superfoods Phytonutrients for optimal health & vitality Tantalising natural tropical fruit chewable tablets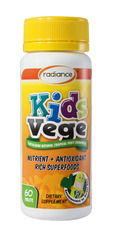 Specials are for online purchases only, don't miss out! -
Email
us to check for availability.
Radiance Kid's Vege delivers the health benefits of high energy, phytonutrient-rich green superfoods from land and sea with ease and convenience. These succulent, tropical fruit flavoured chewable tablets mean that kids will love them too. If your child is a fussy eater, the 5+ servings of colourful fruit and vegetables a day that health experts are calling for may seem hard to achieve. Radiance presents a solution with the ground-breaking Kid's Vege. Usage: Helpful wherever the diet is insufficient to meet the needs of growing healthy children or where lethargy, irritability and sluggishness are common complaints. May also be useful for children with high susceptibility to infection, poor wound healing and low energy. A good green food supplement is often an important adjunct to any optimal health or disorder treatment plan as well as for general good health and wellbeing. Beneficial following vaccinations, when toxic metal overload is suspected or whenever immune function is compromised.
Children 2 years and over: Two tablets daily, preferably with food Children 5 + years: Up to Four tablets daily, preferably with food
Each Tablet Contains: Proprietary blend of green foods 125mg containing: Broccoli (Brassica oleracea) floret extract Spinach (Spinacia oleracea) leaf extract Whole brown rice (Oryza sativa) Carrot juice (Daucus carota) Chlorella (Chlorella vulgaris) Beet root juice (Beta vulgaris) Kelp (Laminaria spp.) Alfalfa (Medicago sativum) Fructooligosaccharides (from chicory and dahlia) 100% Vegetarian. Hypoallergenic. Also contains: Fructose, citric acid, natural mango & pineapple flavour, magnesium stearate. Contains no: Corn, egg, fish, shellfish, gluten, milk derivatives, nuts, soy, wheat, yeast, artificial sweeteners, preservatives, flavouring or colours.