Solgar Adv Acidophilus Plus 120's V
Proven digestive support Guaranteed potency Refrigeration optional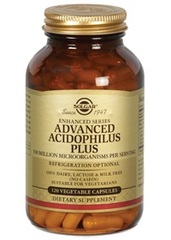 Specials are for online purchases only, don't miss out! -
Email
us to check for availability.
Solgar Advanced Acidophilus Plus provides two well researched and proven strains of probiotics, beneficial bacteria that promote a healthy bowel. Probiotics help maintain regular bowel function and support digestive immunity. Beneficial bowel bacteria can be disrupted by antibiotics, stress, excessive alcohol intake and poor diet leading to bloating, bowel irregularity and digestive upsets. Advanced Acidophilus Plus helps rebalance the beneficial bacteria in the digestive system to maintain digestive health for overall wellbeing. Dairy Free. Guaranteed potency. Refrigeration optional.
As a food supplement for adults, one (1) to two (2) vegetable capsules daily, preferably at mealtime, or as directed by a healthcare practitioner. Always read the label and use as directed. Vitamins are supplementary to a balanced diet. If symptoms persist consult your healthcare professional. TAPS PP5354
Each vegetable capsule provides: Powdered Acidophilus and Bifidobacterium Probiotic Complex Providing: L acidophilus 250 million microorganisms B lactis 250 million viable microorganisms Encapsulated with these natural ingredients: dextrose, potato starch, powdered probiotic cultures, microcrystalline cellulose, magnesium stearate. Vegetable capsule shell: hydroxypropylmethyl cellulose. Solgar's Advanced Probiotics utilise a polysaccharide matrix comprised of a specially formulated blend of excipients; this matrix supplies enhanced shelf stability and protects the organisms from destruction when exposed to the stomach acid.
If you are pregnant, nursing, taking medication, or have a medical condition, consult your healthcare provider before taking this product. Always read the label and use as directed. All Solgar dietary supplements are supplementary to, and not a replacement for a balanced diet. If symptoms persist consult your healthcare professional. TAPS PP8189