Solgar Adv Multi-Billion Dophilus 60's V
High potency probiotic Completely free of dairy and other allergens Most researched LGG strain Suitable for vegans
TAPS PP8189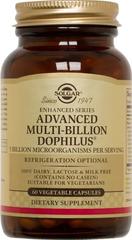 Specials are for online purchases only, don't miss out! -
Email
us to check for availability.
The strongest of Solgar's Enhanced Series. High potency formulation providing 5 billion cultured organisms per capsule, including Lactobacillus rhamnosus GG, LGG®, the most researched of all probiotic strains. This is the most active probiotic product and can be used to address specific or acute intestinal imbalances. The advanced patented polysaccharide matrix provides a unique delivery system protecting the probiotics through the stomach. Once in the small intestine, the polysaccharide matrix dissolves, releasing the probiotics. Solgar's Advanced probiotics are so resilient that they can be stored at ambient temperatures instead of the refrigerator, making them ideal for overseas travel.
As a food supplement for adults, one (1) to two (2) vegetable capsules daily, preferably at mealtime, or as directed by a healthcare practitioner. Do not exceed directions for use. Always read the label and use as directed. Vitamins are supplementary to a balanced diet. If symptoms persist consult your healthcare professional.
One (1) vegetable capsule provides: L. acidophilus, LA-5® 1.25 billion microorganisms B. lactis, BB-12® 1.25 billion microorganisms L. paracasei, L. CASEI 431® 1.25 billion microorganisms L. rhamnosus GG, LGG® 1.25 billion Encapsulated with these natural ingredients: maltodextrin, microcrystalline cellulose, probiotic cultures, sodium aliginate, silicon dioxide, vegetable magnesium stearate. Vegetable capsule shell: hydroxypropylmethyl cellulose. Solgar Advanced Probiotics utilise a polysaccharide matrix comprised of a specially formulated blend of excipients; this matrix supplies enhanced shelf stability and protects the organisms from destruction when exposed to the stomach acid.
If you are pregnant, nursing, taking medication, or have a medical condition, consult your healthcare provider before taking this product. Always read the label and use as directed. All Solgar dietary supplements are supplementary to, and not a replacement for a balanced diet. If symptoms persist consult your healthcare professional. TAPS PP8189