Solgar Digestive Enzyme 100 Tablets
Digestive support Targets fat, starch & protein digestion Ideal for bloating & digestive discomfort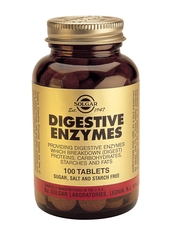 Specials are for online purchases only, don't miss out! -
Email
us to check for availability.
If you suffer from bloating, excess gas or discomfort after eating, your digestive system needs some help. Digestion can be impaired by stress, poor food choices, eating on the run and overeating. Solgar's Digestive Enzymes, taken with meals, aid digestion of fats, starch and protein, and promote nutrient absorption for optimal wellbeing. Digestive Enzymes are ideal to support a strained digestive system.
As a food supplement for adults, one (1) or more tablets, preferably at mealtime, or as directed by a healthcare practitioner. Always read the label and use as directed. Vitamins are supplementary to a balanced diet. If symptoms persist consult your healthcare professional. TAPS PP5354
Each tablet provides: Bile Powdered Extract130mg Pancreatin Powdered Extract 130mg (equivalent to 520mg of pancreatin) Aspergillus Oryzae Diastase 65mg Betaine HC l65mg Papain 32mg Pepsin Extract (equivalent to 100mg pepsin) 30mg Powdered Peppermint Leaf (mentha piperita) 25mg Tableted with these natural ingredients: Dicalcium phosphate, microcrystalline cellulose, vegetable gum, stearic acid, silicon dioxide, hydroxypropylmethyl cellulose, vegetable glycerin.
Caution for those with stomach or duodenal ulcers due to Betaine HCl content. If you are pregnant, nursing, taking medication, or have a medical condition, consult your healthcare provider before taking this product. Always read the label and use as directed. All Solgar dietary supplements are supplementary to, and not a replacement for a balanced diet. If symptoms persist consult your healthcare professional. TAPS PP8189