Solgar Omega 3-6-9 60's
Balanced essential fatty acid formula Fish oil, Flaxseed oil & Borage oil Optimal purity & quality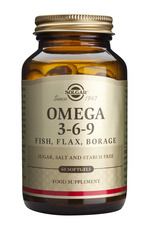 Specials are for online purchases only, don't miss out! -
Email
us to check for availability.
Solgar Omega 3-6-9 is a carefully formulated blend of premium essential oil for a balanced intake of essential fatty acids. With equal amounts of pure fish oil, cold pressed flaxseed oil and borage oil this formula is a perfect broad spectrum daily source of these vital fats. Omega 3-6-9 supports skin and joint health, hormonal balance, eye health and overall health and wellbeing.
As a food supplement for adults, three (3) softgels daily, preferably at mealtime, or as directed by a healthcare practitioner. Always read the label and use as directed. Vitamins are supplementary to a balanced diet. If symptoms persist consult your healthcare professional. TAPS PP5354
Three (3) softgels provide: Fish Oil (from anchovy and sardines) 1300 mg Omega 3 Fatty Acids Eicosapentaenoic Acid (EPA) 441 mg Docosahexaenoic Acid (DHA) 312 mg Flaxseed Oil 1300 mg Omega 9 Fatty Acids Oleic Acid 450 mg Borage Oil 1300 mg Omega 6 Fatty Acids Linoleic Acid 615 mg Gamma Linolenic Acid 295 mg Encapsulated with these natural ingredients: gelatin and glycerin.
Caution with warfarin. Avoid use with epilepsy due to GLA content. If you are pregnant, nursing, taking medication, or have a medical condition, consult your healthcare provider before taking this product. Always read the label and use as directed. All Solgar dietary supplements are supplementary to, and not a replacement for a balanced diet. If symptoms persist consult your healthcare professional. TAPS PP8189