Sylk Natural Personal Lubricant 40g
Most women from time to time need a little assistance to enjoy the pleasures of life and the intimacies of a relationship. SYLK Natural Personal Lubricant is the Perfect Moisture Replenishment. It Effectively Relieves Dryness and is Gentle & Safe for Sensitive Skin.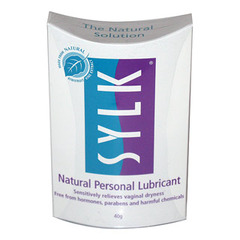 Specials are for online purchases only, don't miss out! -
Email
us to check for availability.
Sylk has been especially formulated from an extract of the kiwifruit plant to replicate vaginal secretion and lubrication. This quality product has been carefully formulated to alleviate dryness, enhance sensitivity and increase sexual enjoyment.

And it is the only natural product of its kind and has many advantages over gel style or synthetic chemical based lubricants.

Being water soluble it will not stain, and is safe to use with condoms, latex, rubber, and plastic items. Sylk can also be used to insert tampons.

Sylk is manufactured in New Zealand by Geneva Marketing (1998) Ltd to strict International standards and in facilities approved by the New Zealand Ministry of Health for the manufacture of a pharmaceutical product to GMP standard.

Sylk has been sold for over 20 years and is recommended by doctors, sex therapists, healthcare consultants and Family Planning Clinics in New Zealand, Australia, The U.S.A., U.K., and Europe.
SYLK can relieve dryness discomfort by adding that extra moisture to enhance sexual intimacy, allowing the experience to be smoother, more comfortable, and more pleasurable. It prevents irritation, friction and prevents abrasion to delicate tissues.

SYLK works well when a first application is allowed to dry and develop a thin film, so that with a second application, it reaches optimum viscosity.

To alleviate routine vaginal dryness, apply a few drops topically with fingertips, as often as required. For more pronounced dryness, a vaginal applicator can be filled with SYLK and used anytime.

SYLK is so pure and natural, you may use as little or as much as you like, as often as desired. Often just a few drops are enough, since a little SYLK goes a long way. It is easily washed off with water or a damp cloth, or simply allow to dry.
Ingredients: Extract of Kiwi Plant, Purified water, sodium citrate, potassium sorbate, citric acid, xantham gum, vegetable, glycerine, and grape seed extract.
Store at room temperature. Keep bottle top closed for purity.