BioCeuticals GlucoFactors Forte 60 capsules
Please contact us for pricing. Otherwise, pricing will be emailed to you once order is placed.
GlucoFactors Forte, featuring GLUTForce™ herbal combination of bitter melon and goat's rue, may assist in the maintenance of normal healthy blood glucose levels in healthy individuals. Goat's rue has been used in traditional western herbal medicine, while gymnema, fenugreek and bitter melon have been used in Ayurvedic medicine for the support of healthy blood sugar metabolism. Alpha lipoic acid, chromium and biotin also assist the maintenance of healthy blood glucose balance in healthy individuals.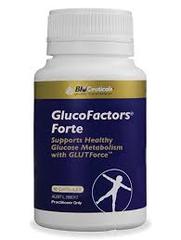 Specials are for online purchases only, don't miss out! -
Email
us to check for availability.
Formula upgraded using evidence-based and traditional research to help support normal healthy blood glucose balance in healthy individuals.
Features GLUTForce™ herbal combination of bitter melon and goat's rue to assist in the maintenance of normal healthy glycaemic control in healthy individuals.
Assists in the maintenance of normal healthy blood glucose levels in healthy individuals.
Helps the body to metabolise carbohydrates.
Includes alpha lipoic acid, biotin and chromium that are important for diets high in carbohydrates.
Alpha lipoic acid provides nutritional support for healthy glucose metabolism and is a potent antioxidant and free radical scavenger.
Chromium is a fundamental component in healthy glucose utilisation and glycaemic control.
Gymnema contains gurmarin, a polypeptide responsible for its sweetness-suppressing qualities.
Adults: Take 1 capsule daily or as directed by your healthcare practitioner.
Each capsule contains:
Herbal extracts equiv. to fresh (GLUTForce™):
Momordica charantia (bitter melon) fruit 3g
Galega officinalis (goat's rue) herb flowering 2g
Herbal extracts equiv. to dry:
Gymnema sylvestre (gymnema) leaf 2g
Trigonella foenum-graecum (fenugreek) seed 400mg
Nutrients:
R,S-alpha-Lipoic acid 200mg
Biotin 1mg
Chromium (as chloride) 250mcg
Chromium (as picolinate) 50mcg
If symptoms persist consult your healthcare practitioner.
Keep out of reach of children.
Always read the label. Use only as directed.
BioCeuticals is Australia's leading provider of nutritional and therapeutic supplements. Renowned for manufacturing and delivering high quality integrative medicines to healthcare practitioners, BioCeuticals aims to consistently raise the standards of natural-based therapies.
With quality, innovation and integrity as guiding principles, BioCeuticals is at the forefront of ensuring complementary and alternative medicines (CAMs) become an integral part of the Australian allied healthcare industry.
BioCeuticals has a strong commitment to research, functional formulas and reliable practitioner support. Our supplements are recognised by qualified healthcare practitioners as well as patients; a fact that reflects our reputation as a progressive force in integrative health.
An astonishing one in five of the worlds plant species are estimated to be threatened with extinction in the wild, with unsustainable harvesting a major factor in this decline.
The rapid rise in demand for medicinal plants is contributing to the over-harvesting of these species. Unless plants are properly collected and cultivated endangered plant species may ultimately become extinct.
The BioCeuticals Sustainability Policy is based on the conservation work of organisations including:
* CITES (Convention on International Trade in Endangered Species of wild fauna & flora) - www.cites.org
* TRAFFIC, the wildlife trade monitoring network - www.traffic.org/medicinal-plants
* United Plant Savers - www.unitedplantsavers.org
* ICUN Red List of Threatened Species - www.icunredlist.org
By following their recommendations, BioCeuticals is committed to ensuring the sustainability of the medicinal plants in our Herbal Range.
BioCeuticals Sustainability Policy
Guidelines on the sustainable cultivation and collection of medicinal plants.
* Any herb classified as threatened by CITES, TRAFFIC, IUCN Red List or United Plant Savers will not be considered for inclusion in any BioCeuticals formulas unless a sustainable source may be accessed.
* If a herb becomes threatened and is an existing BioCeuticals formula, we will either ensure it is sourced from a cultivated source or reformulate the product to include an alternative herb.
* If a herb is considered threatened in a specific country or region, BioCeuticals will not source the herb from that particular area. We will seek an alternative sustainable growing region.