Blackmores KickStart Detox Tabs 42
Supporting you to kickstart a healthy diet and lifestyle campaign
A simple yet holistic approach to detoxification, helping to cleanse, purify and detoxify your body in the first stages of a healthy diet and lifestyle campaign.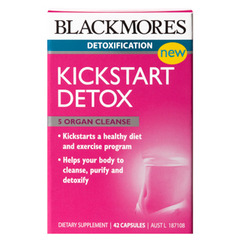 Specials are for online purchases only, don't miss out! -
Email
us to check for availability.
*Simple holistic detoxification program
*Supports the early stages of a diet and lifestyle journey
*Contains ingredients traditionally used to:
*Support natural detoxifying functions of the liver, digestive system and the skin
*Support healthy liver function to enable elimination of waste from the body
*Support healthy digestion and elimination
*Support a healthy urinary tract and healthy elimination of waste and toxins via the kidneys

Blackmores KickStart Detox™ contains herbs that have been used in traditional Western herbal medicine for their support of the kidneys, liver, gallbladder, bowels and skin. These are 5 organs of elimination.
*Globe artichoke supports healthy bile flow and this action supports natural elimination of waste from the digestive tract
*Citrus aurantium or bitter orange is regarded as one of the best herbs to use in traditional Chinese medicine for digestive health, for what can be described as 'stagnation', 'sluggishness' or 'stuffiness' due to stagnation of qi (energy flow)
*Burdock is used in Western herbal medicine to support healthy kidney function
Adults: Take 1 capsule three times a day before meals for the first two weeks of a healthy diet and lifestyle program.
Cynara scolymus (Globe artichoke ) ext. equiv. to dry leaf
2g
Arctium lappa (Burdock) ext. equiv. to dry root
2g
Citrus aurantium (Bitter orange) ext. equiv. to dry fruit
1g
Choline bitartate
100mg
*If you are pregnant or breast-feeding consult your healthcare professional before use.
*Bitter orange may slightly increase heart rate and blood pressure. Use caution with cardiovascular disease.
*Globe artichoke may increase bile secretion. Consult your healthcare professional before use if suffering from gallbladder or bile duct disease.
Blackmores, a leading natural health brand, improves peoples' lives by delivering the world's best natural health solutions, to become peoples' first choice in healthcare. We achieve this by translating our unrivalled heritage and knowledge into innovative, quality branded healthcare solutions that work. Our high quality products, reliable free naturopathic advisory service and award-winning website are among the many reasons Blackmores is the most trusted name in natural health.