Clinicians Sunshine Vitamin D3 60 Sublingual Tablets
Clinicians NEW Sunshine Vitamin D3 with Vitamin K2 provides a synergistic combination of Vitamin D3 and K2 for essential daily support for optimal bone health, muscle strength, joint mobility and immunity. Suitable for the whole family!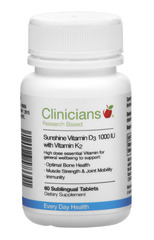 Specials are for online purchases only, don't miss out! -
Email
us to check for availability.
Sunshine Vitamin D3 & Vitamin K2 Benefits
Recommended for people with low Vitamin D levels
This product contains 1,000IU of Vitamin D, the highest amount available in New Zealand without prescription
Vitamin D in general is essential for effective calcium absorption, required for healthy bones and teeth
Clinicians Sunshine Vitamin D contains Vitamin D3 which is the form that is produced naturally in the body
Vitamin D3 and K2 have both synergistic roles in the body to support bone mineral density and every day immune, muscle, joint and heart health. K2 is an essential cofactor for Vitamin D metabolism
Having adequate K2 levels supports calcium absorption in the bone where it belongs, instead of calcifying blood vessels and other soft tissues
Sunshine Vitamin D3 & Vitamin K2 Features
Contains a synergistic combination of Vitamin D3 with Vitamin K2 for wider health benefits
No Pills to swallow, these great tasting melts dissolve under your tongue
Easy to use for children and the elderly
It is estimated that a billion people have insufficient intakes or are deficient in Vitamin D.11,12 Research shows that even in sunny countries such as New Zealand and Australia up 50% of children and adults have insufficient or deficient levels of Vitamin D.10,13,14 In New Zealand few foods are fortified with Vitamin D, and given the high prevalence of insufficiency in this country, Vitamin D supplementation has been proposed as a strategy to improve Vitamin D status.16,17
Measuring serum 25-hydroxyvitamin D is considered the best way to assess Vitamin D status. Levels below 25 nmol/l are reflective of moderate to severe vitamin D deficiency. Levels between 25-50 nmol/l indicate a Vitamin D deficiency. Levels below 80 nmol/l show an insufficiency of vitamin D. According to the Vitamin D Council, the optimal serum level of 25-hydroxyvitamin D is 125-200 nmol/l.39 Vitamin D intoxication which is rare has been documented when serum levels exceed 374 nmol/l.
Lifestyle Recommendations:
Enjoy regular sunshine with skin exposed while being careful about the time spent in the sun. The hottest part of the day is between 11.00 am and 4.00 pm during the summer months, so exposure during these times should be well monitored to avoid sunburn.
Include a diet high in fatty fish to improve vitamin D3 status.
Include eggs, dairy, meat, yoghurt or alternatively natto as part of your diet to improve vitamin K status.
Recommended Dosage:
Adults and children over 3 years of age take 1 tablet daily, dissolved under the tongue or as professionally advised.
Active Ingredients now showing per gelatin capsule:
Ingredients
Vitamin D3 (cholecalciferol 1000IU)

Vitamin K2 (menaquinone MK7)

No added: Gluten, dairy, yeast, sugar, artificial colours, sweeteners, flavours or preservatives.
Also Contains: Xylitol, sorbitol, vegetable stearate, silica, cellulose and natural flavour. Contains Soy.
Vitamin D is considered well tolerated when daily intakes do not exceed the recommended dose
Use with caution in individuals with high calcium levels, primary hyperparathyroidism or disorders of calcium metabolism
Use with caution in individuals on anticogulant medications such as warfarin, monitor INR levels particularly in the 1st two weeks of therapy. Vitamin K doses of 100mcg/ day do not appear to interfere with warfarin and may actually help stabilize and reduce INR fluctuations (INR - International Normalised Ratio).
Pregnancy and Breastfeeding:

Considered suitable when Vitamin D intake does not exceed the tolerable upper intake and Vitamin K does not exceed the recommended daily intake of 90mcg/ day for women aged 19 to 50 years
Clinicians products support rather than compete with modern medicines. As medicines can deplete nutrients in the body, it was important to develop nutritional products that replenish the nutrients lost. Clinicians products, if taken on a regular basis, can also reduce the dependency on modern medicines.
Back in 1997, two pharmacists - Mike Cushman and Denis Kay - came to realise that the current pharmaceutical model was limited. Simply put, it couldn't provide the total answer to delivering wellness for their customers. Mike and Denis researched general and specific conditions to understand key drivers that triggered the imbalances that caused specific conditions. Along with this they researched the impact of modern medicines on body processes and their contribution to these imbalances.
And the result? The Clinicians product range of nutritional support. The product range developed includes not only general vitamin and mineral supplements, but also products for specific conditions and now a Works With Medicine range.