Clinicians VisionCare with Lutein 60 capsules
Clinicians VisionCare with Lutein is a scientifically validated synergistic antioxidant formula specifically designed to support eye and macular health and healthy vision. Containing Xangold derived from marigold flowers which provide the antioxidants lutein and zeaxanthin to support the integrity of eye tissue.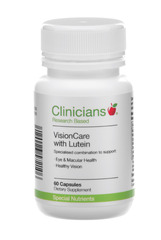 Specials are for online purchases only, don't miss out! -
Email
us to check for availability.
VisionCare with Lutein Benefits


Scientifically validated to support healthy vision

Clinicians VisionCare with Lutein helps protect against free radical damage with two carotenoid antioxidants commonly found in the macula, lutein and zeaxanthin from the marigold flower

Daily life continuously exposes the eyes to damaging blue light; lutein and zeaxanthin help protect the eyes by absorbing damaging blue light and protecting against free radical damage

Lutein and Zeaxanthin have also shown to support optimal macular pigment density to support eye health

Clinicians VisionCare with Lutein also contains a synergistic combination of antioxidant vitamins and trace minerals (copper, Selenium, Zinc, vitamin C and E), commonly deficient in our diet but are so important for healthy vision and eye health as we age

The addition of vitamins E and C assist in supporting the body's antioxidant defenses

Individuals with lighter coloured eyes may be at a higher risk of poor eye health

Having high cholesterol levels or a high dietary intake of saturated fat and smoking have been associated with poor eye health

VisionCare with Lutein Features
Formulated in line with latest AREDs II study

Contains organic selenium, which is more easily absorbed

Contains lutein and zeaxanthin natural macular pigments to support eye health

Zinc levels are aligned with New Zealand recommendations

Includes natural vitamin E instead of synthetic vitamin E for optimal antioxidant benefits

In capsule format for optimal absorption and utilisation of nutrients, as the digestive function tends to decline with age

The combined nutrients work synergistically to support eye health and vision

Heredity and aging appear to represent the primary risk factors in eye health; however, long term exposure to blue light and ultraviolet light may also contribute. Diet alone cannot provide the nutrients at levels to support optimum eye health, however a diet rich in coloured fruit and vegetables high in antioxidants does help. A general multivitamin supports general health but does not provide the optimal levels of antioxidants and zinc.
In the eye, the macula is the central portion of the retina that is responsible for transforming light entering the eye into electrical neural impulses. The macula mediates central vision as well as the ability to see colour and fine detail. Over time, wear and tear on the macula can result in improper processing of images.
Consider supplementing Clinicians VisionCare with Lutein with Clinicians Krill Oil 500 or Omega-3 Fish Oil to support cell membrane health and help protect from free radical damage. Higher level of supplementation may be required for older people who may have reduced digestive function.
Other things you can do:
Stop smoking

Research has linked obesity with poor eye health

Have routine eye exams especially if you have a history of eye problems
Recommended Dosage:

Adult: Take 1 capsule twice daily with food.
Active Ingredients in each capsule:
Vitamin C (ascorbic acid)
Vitamin E (as d-alpha-tocopherol)
Copper (from copper gluconate)
Selenium (from L-selenomethionine)
Zinc (from zinc amino acid chelate)
Lutein esters*
Zeaxanthin esters*
* Contained in a base of Xangold 10%
Also contains: magnesium stearate, silicon dioxide and microcrystalline cellulose.
No added: gluten, dairy, yeast, artificial colours or preservatives.
Clinicians VisionCare with Lutein contains copper, use is not recommended in copper storage conditions (Wilson's disease) therapy as copper supplementation can worsen the condition or interfere with penicillamine therapy.

Pregnancy and Breastfeeding: There is insufficient evidence on the use of the ingredients in Clinicians VisionCare with Lutein during pregnancy and breastfeeding, use under health professional supervision.
Clinicians products support rather than compete with modern medicines. As medicines can deplete nutrients in the body, it was important to develop nutritional products that replenish the nutrients lost. Clinicians products, if taken on a regular basis, can also reduce the dependency on modern medicines.
Back in 1997, two pharmacists - Mike Cushman and Denis Kay - came to realise that the current pharmaceutical model was limited. Simply put, it couldn't provide the total answer to delivering wellness for their customers. Mike and Denis researched general and specific conditions to understand key drivers that triggered the imbalances that caused specific conditions. Along with this they researched the impact of modern medicines on body processes and their contribution to these imbalances.
And the result? The Clinicians product range of nutritional support. The product range developed includes not only general vitamin and mineral supplements, but also products for specific conditions and now a Works With Medicine range.