Home Essentials Isopropyl Alcohol 50ml
Useful around the home for cleaning and sterilising and a convenient addition to your make-up bag to sterilise make-up tools, earrings and newly pierced ears.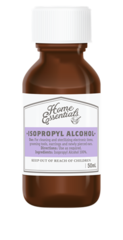 Specials are for online purchases only, don't miss out! -
Email
us to check for availability.
Uses & Tips

Cleans electronic items. Helps remove smudges fingerprints and dirt.
If in doubt, check with manufacturer prior to use as equipment may have been specifically coated.

Steriliser - Sterilise grooming tools such as tweezers, nail scissors, combs, make-up tools. Wipe over with cotton pad dipped in isopropyl alcohol.

Pierced Ears - Use to sterilise clean earrings and care for newly pierced ears. Wipe around pierced hole with a cotton bud dipped in alcohol.

Remove sticky residue - from mirrors or glass. Also effective for removing residual glue from some sticky labels.

Permanent marker - May help remove ink from surfaces.

Stain removal - Spot test on obscured area of item first.