NEILMED NasoGel Water Soluble Saline Nasal Gel Spray 30ml
NasoGel Gel Spray is a drug-free saline based water soluble nasal gel formulated with sodium hyaluronate to provide nasal moisture. NasoGEL provides moisture to hydrate and lubricate dry and irritated nasal passages caused by dry climate and indoor heat. It helps reduce nasal dryness experienced during air travel, oxygen & CPAP use, as well as dryness symptoms caused by atrophic rhinitis, post radiation therapy and sinus surgery.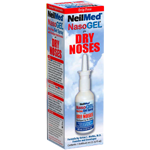 Specials are for online purchases only, don't miss out! -
Email
us to check for availability.
NasoGel Moisturizer helps to alleviate dryness caused by:
Dry Air
CPAP machines
Oxygen therapy
Sinusitis
Allergies
Common Cold
Directions: Use 1-2 sprays of NasoGEL DRIP FREE into each nostril every 4 to 6 hours. In case of persistent dryness, you may increase the frequency, after consulting a physician.
NasoGel Moisturizer Drip Free Gel Spray
Contains:
Isotonic water soluble saline gel with aloe vera and sodium hyaluronate
30 mL
Educational brochure
Warning: Keep out of reach of children. Do not use for mouth dryness. Please do not discard the printed box. The inside final product may not have all the details you require for the ongoing use of the product.