Neutrogena T/Gel Dandruff Shampoo
Gentle, effective and complete scalp therapy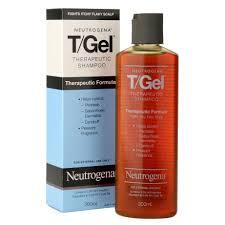 Specials are for online purchases only, don't miss out! -
Email
us to check for availability.
Neutrogena T/Gel® Therapeutic Hair Care is a line of dermatologist-recommended shampoos formulated to treat itchy, flaky scalp, caused by conditions ranging from mild dandruff to seborrheic dermatitis. Gentle and pleasant to use, T/Gel® products leave hair shiny and manageable and relieve itching for hours after rinsing. The complete T/Gel® line offers different active ingredients and benefits to treat of all kinds of scalp symptoms.
Wet hair thoroughly. Apply liberal amounts of Neutrogena® T/Gel® Therapeutic Shampoo and massage into scalp. Leave lather on scalp for several minutes. Rinse. Repeat application. Rinse thoroughly. If there is no improvement after 6 weeks consult your doctor.
NeutarTM Solubilised Coal Tar
Extract 20 mg/ml.
Macrogol lauryl ether (4),
Sodium lauryl ether sulphate,
Cocodiethanolamide,
Cocamidopropyl betaine,
Imidazolidinyl urea, Methyl
parahydoxybenzoate (E218),
Propyl parahydroxybenzoate
(E216), Tetrasodium EDTA,
Citric acid anhydrous, Perfume
(contains Esters of benzoic
acid, methyl benzoate and
benzyl benzoate), Sodium
chloride and Purified water
Do not apply to acutely inflamed or broken skin.
For external use only.

If irritation develops, discontinue use and consult physician.
In rare instances, temporary discoloration of blond, bleached or tinted hair may occur.
Avoid contact with eyes.
Do not exceed recommended dose
Always read the product information before using this medicine.
This is a medicine. Consult your doctor or pharmacist if you have an underlying medical "condition, are taking any other medication or complementary therapy, or if", "symptoms persist. Seek advice before using if you are breast feeding,", "pregnant, planning to become pregnant, or suffer from allergies.", Keep all medicines out of the reach of children.