Childlife Essential Fatty Acids 237ml
**Out of stock - no estimated date of arrival - please contact us for updates**
Essential Fatty Acids Natural Butterscotch Flavor 8 Fl.Oz. (237ml)
ChildLife's Essential Fatty Acids supplies the optimum balance of vegetable based Omega 3 and 6 fatty acids. These nutrients are necessary on a daily basis and cannot be manufactured by the body. EFAs are especially necessary in growing children for healthy skin, intelligence and immune function.*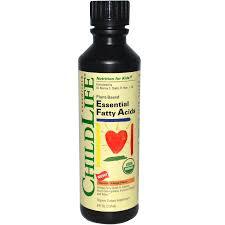 Specials are for online purchases only, don't miss out! -
Email
us to check for availability.
Health Tip
Essential Fatty Acids (EFA's) play a critical part in your child's physical, emotional, mental growth and well being. EFA's may influence focus, attention, mood, behavior, immune strength and healthy skin. Include these Essential Fatty Acids as part of your child's daily diet by giving directly or mixing with: Juices, smoothies, cereals, puddings, or over pancakes or waffles (after cooking).*
ChildLife uses only the highest quality ingredients. Contains no dairy, eggs, yeast, wheat, corn, or alcohol. No artificial colorings. No sweeteners or preservatives. Gluten and Casein free.
Suggested Use
For infants 6 months-1 yr: 1/2 teaspoon every other day
For children 1-5 yrs: 1-2 teaspoons daily
For children 5-12 yrs: 1-2 tablespoons daily
For pregnant or nursing mothers: 1-3 tablespoons daily
* Shake well before use.
* Give directly or mix with your child's favorite drink or food.
Important: Do not cook with this oil or heat over 120 degrees Fahrenheit. Use within 10 weeks of opening.
Other Ingredients
Organic unrefined flax oil, organic sunflower oil, organic unrefined pumpkin oil, organic extra-virgin olive oil, and natural butterscotch flavor.
KEEP REFRIGERATED. SHAKE WELL.