Harker Herbals Intestinal Cleanse 250ml
An important tonic within the Malcolm Harker range, Intestinal Cleanse acts like a spring clean for the body, improving energy and strength. It provides an excellent platform for achieving better health as it boosts the effects of all herbal tonics and elixirs. A worm-free body heals 90% faster from illness.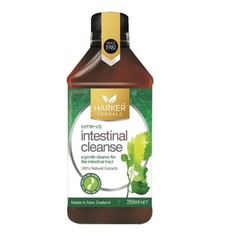 Specials are for online purchases only, don't miss out! -
Email
us to check for availability.
Encourages gentle cleansing from the intestinal tract, the blood, glands and organs.

Helps healing in the body due to immune system boosting potential.

Improves feelings of well-being.

Helps essential minerals & nutrients from foods to be absorbed into the bloodstream.
For optimum health take 825 Verm-ez four times a year for 7-14 days. Fourteen days is normally sufficient to treat the average healthy person (2 x 230ml bottles for two weeks treatment). Take 5-10mls, 3 to 4 times daily (see dosages on previous page).

Chronic Disease only:
'Intensive 6 Week Course' (Highly recommended option). Every 7th day, take 20mls 1 ¼ hours apart from 7am until 12 Noon. Have lunch 1 hour later. Do this for at least 6 weeks. Drink plenty of New Zealand Spring Water during treatment to help flush out cellular toxins.

Best taken straight or by drops for infants. Can be taken in 50mls of boiled water as a tea.
All 100% Natural Herbal Ingredients
Our herbal tonics contain only 100% natural herbal extracts sourced from the very best herbal growers in New Zealand and overseas.

All our herbal remedies are made in a GMP certified facility in the sunny Hawkes Bay. This means they meet the highest standards for natural health products in New Zealand and overseas.