Radiance Ageless Beauty NZ Marine Collagen 60 Veg Capsules
Radiance Ageless Beauty provides ingredients very carefully selected for their beneficial effects on the skin. Hydrates, strengthens and rejuvenates skin, with powerful age-defying antioxidant properties. At 250mg per capsule, it contains one of the highest amounts of collagen per capsule on the market. High-strength - 250mg NZ Marine Collagen per capsule Potent anti-aging with NZ Grapeseed & Pine Bark extract For the maintenance of timeless beautiful skin Winner - 2012 Australian Women's Weekly Women's Health Product of the Year!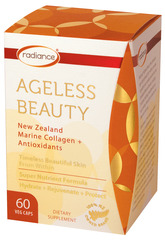 Specials are for online purchases only, don't miss out! -
Email
us to check for availability.
At the heart of this unique formulation is the pure, unadulterated goodness of New Zealand produce from the sea and garden, with nutrients harvested using state of the art techniques. Radiant, youthful skin with integrity From the clean South Pacific waters of New Zealand comes hydrolysed marine collagen complex. Clinical research has shown that marine collagen supplementation supports integrity and hydration for radiantly youthful looking skin. Age Defying Antioxidant Protection Ageless Beauty employs Bay of Plenty kiwifruit skin and Marlborough sauvignon blanc grape seed extract to create a high-ORAC super-antioxidant duo. Technologically advanced, 100% natural processing provides the antioxidant nutrients from these naturally sun-ripened fruit in their most bio-effective state. With enzogenol pine bark extract from New Zealand's pristine, sustainable Pinus radiata forests - a powerful age-defying antioxidant, PLUS minerals silica, zinc and selenium, and Vitamin E, Vitamin C, and beta-carotene. Usage: For the maintenance of timeless beautiful skin. At any age to support collagen production, healthy dermal integrity, clear, healthy skin. Ideal before and after surgery - cosmetic or otherwise. Ideal for problem skin, for those that smoke, are exposed to pollutants or a lot of sun. Ideal support for protection against sun and sun bed damage. Ideal to help maintain smooth, wrinkle free skin.
One capsule twice daily, with or without food. Your skin is constantly renewing itself, but the process takes time. For best results it is recommended that 2-4 capsules of Ageless Beauty be taken, either with or without food, for at least 12 – 16 weeks. After the desired results have been achieved you may find that you can maintain your gorgeously radiant complexion with just one capsule per day.
Each Capsule Contains: New Zealand marine collagen complex250mg Vitamin C (Ascorbic acid)75mg Vinanza Skin Performance Plus super fruit extract75mg Enzogenol pine bark extract (83-90% proanthocyanidins)25mg Schisandra chinensis 10:1 extract25mg Silica (Colloidal anhydrous)25mg Vitamin E20IU Vitamin B6 (Pyridoxine HCl)10mg Beta-carotene (pro-vitamin A)5mg Zinc (Amino acid chelate)5mg Selenium (Selenomethionine)40µg Also contains: Cellulose capsule, magnesium stearate. Contains no: Corn, egg, gluten, milk derivatives, nuts, peanuts, salt, sugar, wheat, yeast, artificial preservatives, flavouring or colours.
Not recommended in pregnancy or lactation.