Blackmores Sugar Balance Tabs 90
Supporting sugar and carbohydrate metabolism
Provides the mineral chromium plus other nutrients needed for sugar and carbohydrate metabolism. Chromium levels may be depleted by diets containing large amounts of sugary or carbohydrate-rich foods.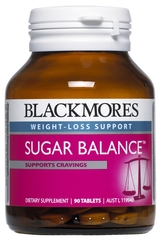 Specials are for online purchases only, don't miss out! -
Email
us to check for availability.
*Combines chromium with co-factors and other key nutrients involved in sugar and carbohydrate metabolism
*Supports the conversion of food into energy
*Extra nutritional support for those following weight loss diets or exercise programs

Chromium, an essential nutrient for sugar metabolism, works with insulin to support the uptake of glucose into cells. Physical activity and a diet high in sugary or carbohydrate-rich foods may increase the loss of chromium from the body, contributing to unstable blood sugar levels and sugar cravings in healthy people.
In Blackmores Sugar Balance™, chromium is combined with other nutrients that support sugar metabolism, including vitamin D3, zinc, manganese and magnesium.
Together, these nutrients support the body's efficient uptake of blood sugar into the cells, where it can be burned as fuel.
B-group vitamins are involved in the conversion of carbohydrates, proteins and fats into energy.
Exercise and dieting may deplete body levels of many of these vitamins and minerals, so supplementation can provide extra support for those following weight loss programs.
Adults - Take 1 tablet 3 times a day with meals, or as professionally prescribed.
Children under 12 years - Only as professionally prescribed.
Chromium picolinate (Chromium 16.6 mg) 133.5 mg
Chromic chloride (Chromium 50 mg) 256 mg
Vitamin B1 (Thiamine nitrate) 7 mg
Vitamin B2 (Riboflavin) 8 mg
Nicotinamide 35 mg
Vitamin B5 (Pantothenic acid from calcium pantothenate 7 mg) 6.4 mg
Vitamin B6 (Pyridoxine hydrochloride) 8 mg
Vitamin B12 (Cyanocobalamin) 17 mg
Vitamin C (Ascorbic acid) 30 mg
Vitamin D3 (Cholecalciferol 3.4 mg) 134 IU
Folic acid 70 mg
Magnesium oxide-heavy (Magnesium 100 mg) 172.7 mg
Manganese amino acid chelate (Manganese 700 mg) 7 mg
Zinc amino acid chelate (Zinc 4 mg) 20 mg
*If you are pregnant or breastfeeding consult your healthcare professional before use.
Blackmores, a leading natural health brand, improves peoples' lives by delivering the world's best natural health solutions, to become peoples' first choice in healthcare. We achieve this by translating our unrivalled heritage and knowledge into innovative, quality branded healthcare solutions that work. Our high quality products, reliable free naturopathic advisory service and award-winning website are among the many reasons Blackmores is the most trusted name in natural health.