Blackmores Super Strength Horseradish Garlic + C 50
Supporting clear sinuses
Specially formulated with horseradish and fenugreek to support the respiratory mucous membranes and their natural sinus-clearing mechanisms. It also includes vitamin C and garlic for immune support.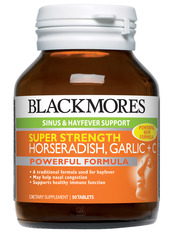 Specials are for online purchases only, don't miss out! -
Email
us to check for availability.
*Super-strength combination of horseradish, garlic, fenugreek and vitamin C
*Supports the body's sinus-draining mechanisms to help maintain clear breathing
*Supports immunity and helps maintain resistance to infection

The nasal passages and sinuses form part of the body's first line of defence against respiratory infection, producing mucus that filters out foreign particles and micro-organisms.
Horseradish contains pungent compounds called glucosinolates, which support the healthy functioning of the respiratory mucous membranes, especially those of the sinuses. Fenugreek is rich in mucilage, and also supports mucous membrane health and function. Together, these two herbs support the body's sinus-draining mechanisms and help maintain clear, healthy air flow through the sinuses and upper respiratory tract.
Horseradish and garlic support the body's defences against a number of bacteria and viruses, including some of those that cause infections of the respiratory tract.
Vitamin C helps maintain healthy immunity and resistance to infection due to its involvement in the normal healthy functioning of the white blood cells and antibodies.

Adults - Take 1 to 2 tablets twice a day with meals, or as professionally prescribed. For additional support when required, take 2 tablets 3 times a day with meals.
Children under 12 years - We recommend Blackmores Odourless Garlic tablets.
Not to be used by children under 2 years of age without medical advice.
Armoracia rusticana (Horseradish) extract
equiv. to dry root 1.8 g (1800 mg)
Allium sativum (Garlic) dry bulb concentrate 50 mg
equiv. to fresh bulb 1 g (1000 mg)
Vitamin C (Ascorbic acid) 500 mg
Trigonella foenum-graecum (Fenugreek)
equiv. to dry seed 50 mg
*If symptoms persist, see your healthcare professional.
*Consult your healthcare professional before use if you have had renal calculi (kidney stones). Ascorbic acid may increase the risk of recurrence of calcium oxalate calculi.
*Discontinue use at least 2 weeks before surgery. Garlic may increase the risk of bleeding associated with surgery.
*Not recommended for use during pregnancy or breastfeeding.
Blackmores, a leading natural health brand, improves peoples' lives by delivering the world's best natural health solutions, to become peoples' first choice in healthcare. We achieve this by translating our unrivalled heritage and knowledge into innovative, quality branded healthcare solutions that work. Our high quality products, reliable free naturopathic advisory service and award-winning website are among the many reasons Blackmores is the most trusted name in natural health.