SleepDrops Essential Sleep & Stress Nutrients with Tart Cherry Powder 150g
People who experience sleep difficulties are often suffering from subclinical nutrient deficiencies. This may be due to stress, underlying health conditions, certain medications or lifestyle choices that use up additional nutrients. A subliclinical deficiency can be enough to disrupt sleeping patterns and overall wellbeing. Even if you have a healthy diet and eat from a wide range of foods, you may not be getting everything you need to maintain healthy sleep patterns. If you're not sleeping well, Essential Sleep Nutrients will naturally support your body so you can start to get a better night's sleep.
Children = 1 container for a months supply. Adults = 2 containers for a months supply.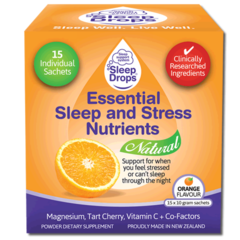 Specials are for online purchases only, don't miss out! -
Email
us to check for availability.
Support to stay asleep longer
Supports deep restorative sleep
Support to awake refreshed
Support sleep quality and quantity
Support to reduce snoring
Support for normal stress hormones
Supports muscles for reduced leg cramping
Supports restless legs
Support immune function
Supports natural anti aging processes
Supports liver function
Essential Sleep & Stress Nutrients comes in a convenient powder form, which is easily made into a tasty drink. ESSN can be taken by all the family.
We believe liquid formulations are the most appropriate way to administrate these Sleep supporting remedies to you because so many people have compromised digestion.
Magnesium: The Great Soother –
Common symptoms of low magnesium levels may include: twitching eyes or muscles, headaches, tinnitus ( ringing in the ears), quick to anger, muscle cramping, inability to fall asleep and waking during the night
Did you know that every cell has magnesium-dependent processes?
Minerals are stored in the bones and teeth of our bodies with magnesium being found primarily in the skeletal system – as well as inside and outside the cells in our body. Low magnesium levels have been associated with all sorts of imbalances.
Inability to stay asleep:
This is a common sleep challenge that many people experience. It is the inability to stay asleep, restless or broken sleep, or waking through the night unable to get back to sleep easily. How many times have you experienced this feeling? If this sounds like you then Essential Sleep Nutrients should become an important part of your sleep care routine.
Not all magnesium supplements are created equal!
Our Naturopathic Sleep Specialist Kirsten Taylor – who is passionate about ensuring you get the best night's sleep possible – has specially formulated Essential Sleep Nutrients. Kirsten has carefully chosen bio-available forms of minerals and co-factors to support your natural sleep cycles so you can be confident you are buying a product that really works!
Each product is supported with an information booklet and a protocol sheet so you can easily understand how best to use our products for results – quickly.
Adults:
Take 2 rounded teaspoons (1 sachet) daily at night before bed.
Add the powder to up to 400mls of water (to taste) and stir.
Tip: Keep the spoon in the glass and stir again before taking each sip/drink.
During times of stress take one dose with dinner and another before bed.
For "sleep" only purposes you can take both teaspoons at once directly before bed.
Children's doses change depending on age:
Children 2 to 5 years: 1/2 teaspoon in water before bed. Can be taken in 2 divided doses.
Children 6 to 12 years: 1 teaspoon in water before bed. Can be taken in 2 divided doses.
At full Adult dose, each box contains a 2 week supply. For best results we recommend purchasing 2 boxes as it usually takes around 4 weeks to really notice the effects of nutritional therapies.
INGREDIENTS: per 5gm (half a sachet)
Nutrients:
Tart Cherry Skin Concentrate Powder 225 mg
Ascorbic Acid 1500mg
Calcium Ascorbate 400mg
Total Vitamin C 1830mg
Magnesium as Magnesium Citrate 133mg
Magnesium as Magnesium Phosphate 67mg
Total Elemental Magnesium 200mg
Potassium as Potassium Phosphate 86mg
Zinc as Zinc Gluconate 5mg
Inositol 20mg
B1 as Thiamine HCl 5mg
B5 as Calcium Pantothenate 25mg
B6 as Pyridoxine HCl 10mg
OTHER INGREDIENTS: Stevia extract, Fructose (natural fruit sugar), Natural orange flavour.
No artificial flavours, sweeteners, preservatives or colours used in this product. Gluten and Dairy free.
Formulated, tested & manufactured in New Zealand from imported ingredients
Anyone with an allergy or sensitivity to one or any of the ingredients.
Magnesium may decrease the absorption and efficacy of some medications. Essential Sleep & Stress Nutrients should be administered at least 2 hours apart from tetracycline and quinolone antibiotics.
If you are taking Wafarin we insist that you inform your Doctor of your decision to take this product and recommend regular checking with them to ensure your safety and wellbeing.