Solgar Beetroot Extract 90's
Solgar Beetroot Extract contains high quality Beetroot extract. Throughout history Beetroot has been used in medicinal food and recent research has confirmed these uses as well as highlighting some new health benefits. Recent research has demonstrated beetroot is uniquely rich source of phytonutrient pigments collectively known as betalains.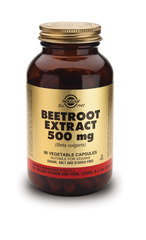 Specials are for online purchases only, don't miss out! -
Email
us to check for availability.
Betalains are nitrogen-containing, water-soluble plant pigments which have big range of desirable biological activities. These includie antioxidant, anti-inflammatory and cardiovascular-protective properties. Recent studies has shown beetroot's role in cardiovascular health has cited nitrate as the key component responsible for these benefits. Researchers found that nitrate from beetroot increased levels of nitric oxide within the body. Nitric oxide signals the smooth muscle fibres to relax, which increases blood flow, subsequently improving circulation and reducing blood pressure. Solgar Beetroot Extract also contain various carotenoids, iron, potassium, fibre, vitamin c, folic acid and betaine. Betaine (also known as TMG) has been shown to reduce the blood concentration of homocysteine, a substance linked to heart disease. Solgar Beetroot Extract is suitable for Vegetarians.
As a food supplement for adults, take one (1) vegetable capsule, up to three (3) time daily, preferably at mealtimes, or as directed by a healthcare practitioner. Always read the label and use as directed. Vitamins are supplementary to a balanced diet. If symptoms persist consult your healthcare professional. TAPS PP5354
One vegetable capsule provides: Beetroot extract (Beta vulgaris) 500mg. Vegetable Capsule Shell (hydroxypropylmethyl cellulose), Buliking Agent mycrocrystalline cellulose, Anti-Caking Agent: silicone dioxide, vegetable magnesium, vegetable magnesium stearate.
If you are pregnant, nursing, taking medication, or have a medical condition, consult your healthcare provider before taking this product. Always read the label and use as directed. All Solgar dietary supplements are supplementary to, and not a replacement for a balanced diet. If symptoms persist consult your healthcare professional. TAPS PP8189