Snoreeze Oral Strips 14
Snoreeze Oral Strips are the convenient alternative to Snoreeze Throat spray. These fast dissolving, mint flavoured strips target the main cause of snoring and are ideal if you tend to snore more when lying on your back.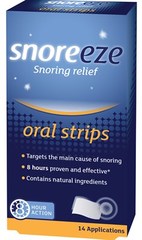 Specials are for online purchases only, don't miss out! -
Email
us to check for availability.
Oral Strips contain a unique time-release formula, which coats the back of the throat throughout the night and reduces the vibrations of the soft tissues, helping to stop snoring.
Snoreeze Oral Strips are based on natural active ingredients including:

•Peppermint Oil - to improve airflow and tone the tissues
•Vitamin E and Sodium Hyaluronate - to moisturise and tone the throat tissues for added comfort
•Guar Gum - for added lubrication

Snoreeze helps you and your partner enjoy a peaceful night's sleep.
1. Simply place a Snoreeze Oral Strip on the roof of your mouth
2. Allow it to dissolve for 20-30 seconds
3. The active ingredients work by coating the tissues at the back of the throat.

You can take more than one Oral Strip per night if desired, but one is usually sufficient
Pectin (from apples), aqua (water), glycerin (vegetal origin, GMO-free source), peppermint oil (from peppermint plant), cellulose (vegetal origin), sorbitan stearate (vegetal origin), polysorbate 60 (from vegetable oil), tocopheryl acetate (vitamin E), menthol (from peppermint), aspartame, potassium sorbate, sodium saccharin, acesulfame K, hyaluronic acid (from wheat and glucose), guar gum (vegetal origin), citric acid (from sucrose), brilliant blue FCF.

Snoreeze Oral Strips are suitable for vegetarians, and do not contain any animal-derived ingredients.