Clinicians B Complex 60 capsules
Clinicians B Complex provides a combination of essential B Vitamins in high potency. It is recommended where a deficiency is suspected or to support nervous system function and health. B group Vitamins are help support the nervous system in times of stress, exhaustion, fatigue, tension or nervousness.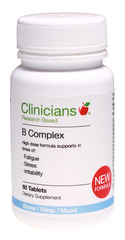 Specials are for online purchases only, don't miss out! -
Email
us to check for availability.
B Complex Benefits
Supports the nervous system
Supports energy levels
Provides support for hair, skin, eyes and liver health
Includes Vitamin C which complements B-Group vitamins for antioxidant and immunity support
B Complex Features
Updated formulation providing higher doses of B vitamins at effective scientific levels
No PABA & Nicotinic acid which can often cause allergic reactions
Can be used alongside conventional medication
Can be used alongside an antioxidant or multivitamin and mineral formulation
Can be used by all age groups
Can be used long-term
Cost effective
Only need to take 1 tablet a day!
Vitamin B1 is essential for energy production especially in the heart and brain.
Vitamin B2 exerts its effects in the cell cycles involved in energy production.
Vitamin B3 is essential for energy production and supporting circulation.
Vitamin B5 plays a critical role in the utilisation of fats and carbohydrates in energy production, the manufacture of adrenal hormones and red blood cells.
Vitamin B6 is involved in the formation of proteins, structural compounds, chemical transmitters in the nervous system, red blood cells and prostaglandins within the body. It is also important in maintaining normal hormone balance and proper immune function.
Vitamin B12 works with folic acid in many bodily processes including the synthesis of genetic material, red blood cells and the insulation (myelin sheath) that surrounds nerve cells.
Folic Acid is essential for cell division and health of the developing foetus. It also functions with Vitamin B12 in many bodily processes.
Biotin is essential in the manufacture and utilisation of fats and amino acids. It is essential in building strong hair and nails. Choline assists the B vitamins in the metabolism of fats.
Inositol is a primary constituent of cell membranes and helps regulate cell division.
Recommended Dose:
Adult: 1 tablet daily with food or as directed.
Active Ingredients in each film coated tablet:
Thiamin hydrochloride (Vitamin B1 75mg)
Riboflavin (Vitamin B2)
Nicotinamide (Vitamin B3)
Calcium pantothenate (Vitamin B5 50 mg)
Pyridoxine hyrdrochloride (Vitamin B6 50 mg)
Cyanocobalamin (Vitamin B12)
Ascorbic acid (Vitamin C)
Folic Acid
Biotin
Choline bitartrate (Choline 75 mg)
Inositol
B complex vitamins are considered safe and well tolerated, in all age groups including during pregnancy and breastfeeding.
Clinicians products support rather than compete with modern medicines. As medicines can deplete nutrients in the body, it was important to develop nutritional products that replenish the nutrients lost. Clinicians products, if taken on a regular basis, can also reduce the dependency on modern medicines.
Back in 1997, two pharmacists - Mike Cushman and Denis Kay - came to realise that the current pharmaceutical model was limited. Simply put, it couldn't provide the total answer to delivering wellness for their customers. Mike and Denis researched general and specific conditions to understand key drivers that triggered the imbalances that caused specific conditions. Along with this they researched the impact of modern medicines on body processes and their contribution to these imbalances.
And the result? The Clinicians product range of nutritional support. The product range developed includes not only general vitamin and mineral supplements, but also products for specific conditions and now a Works With Medicine range.